Well, at least that's what it seems like! So I spent the better half of my weekend trying to figure out which box to open first. In the beginning, our dining room looked like hell, but then I sort of just transferred all of my unopened boxes into the family room (like what good that did)...so this is what greeted me this past Sunday afternoon:
Then I just moved half of the boxes throughout the designated rooms in the house, so I'm really just left with crap that I need to sort out! Ugh, I'm so not looking forward to that. Especially since we currently do NOT have any storage space right now! You see, I had mentioned briefly in an earlier blog that we had to remove the closets in all the rooms. That topic right there deserves it's "own blog," so I'll just leave it at that. So while I await "new closets" (which is at the bottom of our list in our "fixer-upper challenges"), the interior hallway linen closets still need to be painted. I don't really know why we neglected this part of the initial painting project, but it's a minor thing that needs to be done before we can start putting our stuff in it! And lastly, the entryway closet is in dire need of a makeover...STAT! There's water damage that we are trying to pinpoint, so that's another project that needs to get started before storing anything in it. And the garage? Well, that also needs to get redone. Right now, the garage is dark, dingy, and the hubby doesn't want to redo the garage until we get a new roof...mind you, all this requires a budget. A budget that we currently do NOT have! At least not yet. Currently, we are saving up for new windows. Our 50+ yr old, original windows just have to go...they are not energy efficient, do not have screens, and are cracking as we speak...so windows first, then the roof...then we'll have to go from there.
In the meanwhile, I'm stuck with projects that I can handle. Like trying to sort the stuff in my kitchen like this: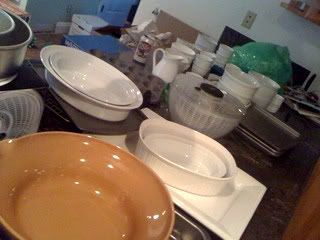 By the way, I am still looking for my camera! Somewhere amongst these boxes lies my camera. So for now, these fuzzy, dark, phone pics will just have to do.
On a lighter note, I checked my grades for this past Spring Semester...It's "A-okay" baby!!! Yahooooo!!! I hope I can keep up this 4.0 pre-req status! We shall see...Til then, gnight!